About Us
Little Canteen is a Chinese takeaway in Glasgow. Why don't you try our Shrimp Curry or Mixed Vegetable Curry?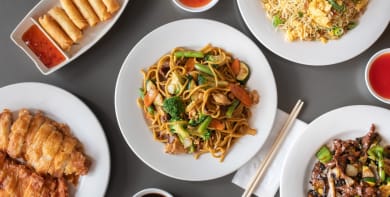 Reviews
535 reviews
carol
"Lovely meal - excellent quality - happy to recommend"
24/02/2021
Lani
"Great stuff all around—soups, wontons and dumplings especially hit the spot."
20/02/2021
Daisy
"Amazing food, lovely delivery human. Quantity and quality for the price cant be beat"
19/02/2021
Robin
"Delicious as always!"
16/02/2021
Menu
Black Bean Sauce 01) Mixed Vegetable
£5.50
Black Bean Sauce 02) Tofu
£5.95
Black Bean Sauce 03) Chicken
£5.95
Black Bean Sauce 04) Beef
£5.95
Black Bean Sauce 05) Char Siu
£5.95
Black Bean Sauce 06) Shrimp
£6.20
Black Bean Sauce 07) Roast Duck
£6.80
Black Bean Sauce 08) King Prawn
£6.80
Black Bean Sauce 09) Squid
£6.80
Black Bean Sauce 10) Little Canteen Special
£7.30
Szechuan 01) Mixed Vegetable
Hot
£5.50
Szechuan 05) Char Siu
Hot
£5.95
Szechuan 07) Roast Duck
Hot
£6.80
Szechuan 08) King Prawn
Hot
£6.80
Szechuan 10) Little Canteen Special
Hot
£7.30
Kung Po 01) Mixed Vegetable
Hot
£5.50
Kung Po 07) Roast Duck
Hot
£6.80
Kung Po 08) King Prawn
Hot
£6.80
Kung Po 10) Little Canteen Special
Hot
£7.30
Peking 01) Mixed Vegetable
£5.50
Peking 10) Little Canteen Special
£7.30
Yuhong 01) Mixed Vegetable
£5.50
Yuhong 10) Little Canteen Special
£7.30
Egg Foo Yung 01) Mixed Vegetable
£5.50
Egg Foo Yung 05) Char Siu
£5.95
Egg Foo Yung 07) Roast Duck
£6.80
Egg Foo Yung 08) King Prawn
£6.80
Egg Foo Yung 10) Little Canteen Special
£7.30
Lazi 10) Little Canteen Special
£7.30
Oyster Sauce 01) Mixed Vegetable
£5.50
Oyster Sauce 05) Char Siu
£5.95
Oyster Sauce 07) Roast Duck
£6.80
Oyster Sauce 08) King Prawn
£6.80
Oyster Sauce 10) Little Canteen Special
£7.30
Mandarin Sauce 01) Mixed Vegetable
£5.50
Mandarin Sauce 03) Chicken
£5.95
Mandarin Sauce 05) Char Siu
£5.95
Mandarin Sauce 06) Shrimp
£6.20
Mandarin Sauce 07) Roast Duck
£6.80
Mandarin Sauce 08) King Prawn
£6.80
Mandarin Sauce 10) Little Canteen Special
£7.30
Tomato 01) Mixed Vegetable
£5.50
Tomato 10) Little Canteen Special
£7.30
Bean Sprouts 01) Mixed Vegetable
£5.50
Bean Sprouts 05) Char Siu
£5.95
Bean Sprouts 07) Roast Duck
£6.80
Bean Sprouts 08) King Prawn
£6.80
Bean Sprouts 10) Little Canteen Special
£7.30
Onion 01) Mixed Vegetable
£5.50
Onion 10) Little Canteen Special
£7.30
Cashew Nuts 01) Mixed Vegetable
£5.50
Cashew Nuts 07) Roast Duck
£6.80
Cashew Nuts 08) King Prawn
£6.80
Cashew Nuts 10) Little Canteen Special
£7.30
Fresh Mushroom 01) Mixed Vegetable
£5.50
Fresh Mushroom 03) Chicken
£5.95
Fresh Mushroom 05) Char Siu
£5.95
Fresh Mushroom 06) Shrimp
£6.20
Fresh Mushroom 07) Roast Duck
£6.80
Fresh Mushroom 08) King Prawn
£6.80
Fresh Mushroom 10) Little Canteen Special
£7.30
Chilli Yellow Bean Sauce 01) Mixed Vegetable
Hot
£5.50
Chilli Yellow Bean Sauce 02) Tofu
Hot
£5.95
Chilli Yellow Bean Sauce 03) Chicken
Hot
£5.95
Chilli Yellow Bean Sauce 04) Beef
Hot
£5.95
Chilli Yellow Bean Sauce 05) Char Siu
Hot
£5.95
Chilli Yellow Bean Sauce 06) Shrimp
Hot
£6.20
Chilli Yellow Bean Sauce 07) Roast Duck
Hot
£6.80
Chilli Yellow Bean Sauce 08) King Prawn
Hot
£6.80
Chilli Yellow Bean Sauce 09) Squid
Hot
£6.80
Chilli Yellow Bean Sauce 10) Little Canteen Special
Hot
£7.30
Ginger & Spring Onion 01) Mixed Vegetable
£5.50
Ginger & Spring Onion 02) Tofu
£5.95
Ginger & Spring Onion 03) Chicken
£5.95
Ginger & Spring Onion 04) Beef
£5.95
Ginger & Spring Onion 05) Char Siu
£5.95
Ginger & Spring Onion 06) Shrimp
£6.20
Ginger & Spring Onion 07) Roast Duck
£6.80
Ginger & Spring Onion 08) King Prawn
£6.80
Ginger & Spring Onion 09) Squid
£6.80
Ginger & Spring Onion 10) Little Canteen Special
£7.30
Sweet Ginger & Pineapple 01) Mixed Vegetable
£5.50
Sweet Ginger & Pineapple 02) Tofu
£5.95
Sweet Ginger & Pineapple 03) Chicken
£5.95
Sweet Ginger & Pineapple 04) Beef
£5.95
Sweet Ginger & Pineapple 05) Char Siu
£5.95
Sweet Ginger & Pineapple 06) Shrimp
£6.20
Sweet Ginger & Pineapple 07) Roast Duck
£6.80
Sweet Ginger & Pineapple 08) King Prawn
£6.80
Sweet Ginger & Pineapple 09) Squid
£6.80
Sweet Ginger & Pineapple 10) Little Canteen Special
£7.30
Thai Sweet Chilli 01) Mixed Vegetable
Hot
£5.50
Thai Sweet Chilli 02) Tofu
Hot
£5.95
Thai Sweet Chilli 03) Chicken
Hot
£5.95
Thai Sweet Chilli 04) Beef
Hot
£5.95
Thai Sweet Chilli 05) Char Siu
Hot
£5.95
Thai Sweet Chilli 06) Shrimp
Hot
£6.20
Thai Sweet Chilli 07) Roast Duck
Hot
£6.80
Thai Sweet Chilli 08) King Prawn
Hot
£6.80
Thai Sweet Chilli 09) Squid
Hot
£6.80
Thai Sweet Chilli 10) Little Canteen Special
Hot
£7.30
Crispy Chicken Cantonese Style with Shrimp
£6.10
Roast Duck Cantonese Style
£6.80
Roast Duck With Plum Sauce
£6.80
Roast Duck With Soya Sauce
£6.80
King Prawn With Cream Sauce
£6.80
Grilled Sea Bass Hot & Spicy
Hot
£18.95
Grilled Sea Bass Pickled Chilli
Hot
£18.95
Grilled Sea Bass Black Bean Sauce
Hot
£18.95
Fish Slices in Chilli Oil
Hot
£14.95
Fried Fish with Chilli & Szechuan Peppercorn Sauce
Hot
£16.95
Blood Bean Curd in Chilli Oil
Hot
£14.95
Geleshan Chicken with Bone in Dried Chilli
Hot
£13.95
Pork Hough in Hot & Pickled Soup
Hot
£12.95
Salt & Chilli Pig Feet
Hot
£12.95
Hot & Spicy Pot with Mixed Meat Seafood
With vegetables
Hot
£18.95
Hot & Spicy Pot Duck Tounge
Hot
£12.95
Hot & Spicy Pot Frog Legs
Hot
£12.95
Hot & Spicy Pot King Prawn
Hot
£12.95
Hot & Spicy Pot Squid
Hot
£12.95
Hot & Spicy Pot Rabbit
Hot
£12.95
Hot & Spicy Pot Intestines
Hot
£12.95
Hot & Spicy Pot Chicken
Hot
£12.95
Hot & Spicy Pot Chicken Wings
Hot
£12.95
Hot & Spicy Pot Lamb Ribs
Hot
£12.95
Hot & Spicy Pot Pork Feet
Hot
£12.95
Hot & Spicy Pot Pork Tails
Hot
£9.95
Hot & Spicy Pot Cauliflower
Hot
£9.95
Special Stir-Fry Duck Tounge
Hot
£12.95
Special Stir-Fry Pork Intestines
Hot
£12.95
Special Stir-Fry Squid
Hot
£11.95
Special Stir-Fry Beef Tripes
Hot
£11.95
Special Stir-Fry Chicken Gizzards
Hot
£10.95
Special Stir-Fry with Sauce Pork Instestines
Hot
£12.95
Special Stir-Fry with Sauce Frog Leg
Hot
£12.95
Special Stir-Fry with Sauce Beef Tripes
Hot
£11.95
Special Stir-Fry with Sauce Squid
Hot
£11.95
Special Stir-Fry with Sauce Pork Kidney
Hot
£10.95
Chinese Leaves & Egg Soup Small
£6.50
Chinese Leaves & Egg Soup Large
£9.00
Preserved Cabbage & Clear Noodle Soup Small
£7.00
Preserved Cabbage & Clear Noodle Soup Large
£10.00
Pork, Chinese Leaves & Tofu Soup Small
£7.00
Pork, Chinese Leaves & Tofu Soup Large
£10.00
Pork & Preserved Cabbage Soup Small
£7.00
Pork & Preserved Cabbage Soup Large
£10.00
Crab Meat & Sweetcorn Soup
£3.50
Rice Noodle Mixed Vegetable (V)
£5.90
Rice Noodle Turbo (Chilli & Garlic)
£6.80
Rice Noodle Little Canteen Special
£7.30
Chow Mein (Thin) Mixed Vegetable (V)
£5.90
Chow Mein (Thin) Char Siu
£6.80
Chow Mein (Thin) Turbo (Chilli & Garlic)
£6.80
Chow Mein (Thin) King Prawn
£7.30
Chow Mein (Thin) Singapore
£7.30
Chow Mein (Thin) Little Canteen Special
£7.30
Szechuan Spicy Chicken with Bones
Hot
£7.95
Beef & Triple in Spicy Sauce
Hot
£7.95
Fungus with Pickled Chilli & Vinegar
£6.95
Pig Ear in Spicy Sauce
Hot
£6.95
Roasted Cashew Nut
Vegetarian
£5.50
Salted Peanuts
Vegetarian
£4.80
Banana Fritters
Vegetarian
£3.50
Pineapple Fritters
Vegetarian
£3.50
Chicken Breast Curry - Main
Sweet & Sour Chicken - Main
Beef with Black Beans Sauce - Main
Crispy Shredded Chicken - Main
Mixed Vegetable (V) - Main
Tofu with Fresh Mushroom (V) - Main
Chicken & Noodle Soup - Starter
Chicken & Mushroom Soup - Starter
Vegetable Spring Rolls (V) - Starter
Crispy Seaweed (V) - Starter
Salt & Chilli Chicken (V) - Starter
Mixed Vegetable Curry
Vegetarian
£5.50
Little Canteen Special Curry
£7.20
Pork Slices with Spicy Sauce
Hot
£13.95
Pork Hough with Chilli & Szechuan Peppercorn
Hot
£11.95
Braised Mao Style Pork Belly
£8.30
Double Cooked Pork Belly
Hot
£8.30
Stir Fried Shredded Pork with Egg & Black Fungus
£8.00
Shredded Pork with Peking Sauce with Pancakes
£9.00
Pork Kidneys with Birdeyes Chilli
Hot
£9.95
Beef Slices with Spicy Sauce
Hot
£13.95
Beef with Pickled Chilli
Hot
£9.50
Stir Fried Beef with Seasonal Vegetables
£8.30
Braised Beef Flank with Mooli
£8.30
Little Canteen Special Chicken with Bone
Hot
£15.95
Sweet & Sour Chicken with Pineapple
£8.00
Fish Slices with Spicy Sauce
Hot
£15.95
Fish Slices with Pickled Vegetables
Hot
£15.95
Fish Slices with Tomato & Pickled Chilli
Hot
£15.95
Seafood with Seasonal Vegetable
£10.50
Little Canteen Special Stir-Fry
£10.50
Chinese Chives with Egg
Vegetarian
£10.80
Stir Fried Fine Bean with Pork Mince
With preserved vegetables
£7.80
Stir Fried Preserved Beans with Pork Mince
Hot
£7.50
Lettuce in Oyster Sauce
Vegetarian
£7.50
Chilli & Vinegar Chinese Leaves
Hot
Vegetarian
£7.50
Chilli & Vinegar Shredded Potato
Hot
Vegetarian
£7.50
Stir Fried Egg with Tomato
Vegetarian
£7.50
Stir Fried Seasonal Vegetables
£7.00
Boiled Rice with Curry Sauce
Long tray
Vegetarian
£3.80
Fried Rice with Curry Sauce
Long tray
Vegetarian
£3.80
Fried Rice with Gravy Sauce
Long tray
Vegetarian
£3.80
Chips, Fried Rice with Curry Sauce
Long tray
Vegetarian
£3.80
Chips, Fried Rice with Gravy Sauce
Long tray
Vegetarian
£3.80
Portion of Cashew Nuts
Vegetarian
£4.00
Braised Beef Flank with Mooli on Rice
£7.95
Kung Po Chicken on Rice
Hot
£7.95
Mao Style Braised Pork Belly on Rice
£7.95
Pickled Fine Bean with Pork Mince on Rice
Hot
£7.95
Beef with Seasonal Vegetable on Rice
£7.95
Beef Fillet with Egg on Rice
£7.95
Yuhong Aubergine on Rice
Hot
£7.95
Fine Bean with Pork Mince on Rice
£7.95
Pork Mince with Sweetcorn on Rice
£7.95
Mixed Seafood with Seasonal Vegetable on Rice
£8.95
Beef Fillet with Pickled Chilli on Rice
Hot
£9.95
Little Canteen Special Stir-Fry on Rice
£9.95
Fried Rice Mixed Vegetable (V)
£5.90
Fried Rice Turbo (Chilli & Garlic)
£6.80
Fried Rice Little Canteen Special
£7.30
Salt & Chilli Chips
Hot
Vegetarian
£4.30
Sauce Sweet & Sour
Vegetarian
£2.20
Stir Fried Onion
Vegetarian
£3.00
Stir Fried Bean Sprouts
Vegetarian
£3.00
Stir Fried Mushroom
Vegetarian
£3.00
Stir Fried Mixed Vegetable
Vegetarian
£3.30
Deep Fried Onion Ring
Vegetarian
£3.50
Chips with Curry
Long tray
Vegetarian
£3.80
Chips with Gravy
Long tray
Vegetarian
£3.80
Grilled Oyster Half Dozen
£15.00
Chinese Chives Skewer
Vegetarian
£2.60
Cucumber Skewer
Vegetarian
£1.20
Enoki Mushroom Skewer
Vegetarian
£2.60
Aubergine Skewer
Vegetarian
£2.00
Mushroom Skewer
Vegetarian
£1.20
Grilled Bun Slices
Vegetarian
£1.80
Udon Turbo (Chilli & Garlic)
£6.80
Udon Little Canteen Special
£7.30
Mixed Vegetable Satay
Vegetarian
£5.50
Chicken Satay Skewers (4 Pieces)
£6.40
Beef Satay Skewers (4 Pieces)
£6.40
Little Canteen Special Satay
£7.20
Boiled Dumpling with Pork & Chinese Leaves (12)
£6.95
Pan Fried Dumpling with Chicken (12)
£7.50
Braised Beef Flank Noodle
£7.95
Braised Beef Flank Rice Stick
£7.95
Braised Beef Shin Rice Stick
£7.95
Stir Fried Rice Stick with Beef
£7.95
Chengdu Dandan Noodle
Hot
£7.95
Chongqing Spicy Noodle
Hot
£7.95
Cold Noodle with Shredded Chicken
Hot
£8.95
Hot & Spicy Potato Noodle
Hot
£6.95
Singapore Rice Noodle
Hot
£7.95
Sweet & Sour Mixed Vegetable
Vegetarian
£5.50
Hong Kong Sweet & Sour Chicken
£5.95
Sweet & Sour Chicken in Batter
£6.10
Sweet & Sour King Prawn in Batter
£6.95
Sweet & Sour Little Canteen Special
£7.20
Kids Chicken Ball with Chips
£3.50
Kids Chicken Nuggets with Chips
£3.50
Vegetable Spring Rolls (10 Pieces)
Vegetarian
£3.50
Crispy Duck Spring Roll 6Pcs
£4.50
Crispy Seaweed
Vegetarian
£4.20
Salt & Chilli Tofu
Vegetarian
Hot
£4.50
Salt & Chilli Chicken
Hot
£5.50
Salt & Chilli Spare Ribs
Hot
£6.20
Salt & Chilli Chicken Wings
Hot
£5.50
Salt & Chilli King Prawn
Hot
£6.50
Salt & Chilli Platter
Hot
£15.50
Honey & Spicy Chicken Wings
Hot
£4.70
Chicken Satay Skewers (2 Pieces)
£4.50
Mussel With Black Bean Sauce
£5.60
Aromatic Duck 1/4
Served with pancakes
£9.50
Aromatic Duck 1/2
Served with pancakes
£16.50
Aromatic Duck Whole
Served with pancakes
£24.95
Contact Us
Find Us
1164 Argyle Street, Glasgow, G38TD
We deliver to
G1, G11, G12, G13, G14, G2, G20, G3, G4, G51