About Us
Little Canteen is a Chinese takeaway in Glasgow. Why don't you try our Shrimp Curry or Mixed Vegetable Curry?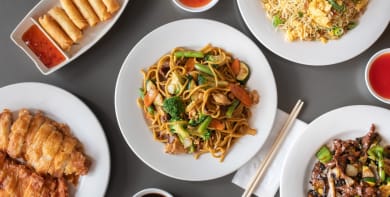 Reviews
505 reviews
dorothy
"Great beef curry and fried rice with tasty well seasoned dumplings. Would recommend"
28/10/2020
Suzi
"Food is amazing"
27/10/2020
nicola
"Delivered earlier than expected, food was lovely, highly recommend and will use again"
16/10/2020
dorothy
"Curry was lovely. Wasn't as keen on the spare ribs but that was probably just personal taste"
14/10/2020
Menu
Black Bean Sauce 01) Mixed Vegetable
£5.50
Black Bean Sauce 02) Tofu
£5.95
Black Bean Sauce 03) Chicken
£5.95
Black Bean Sauce 04) Beef
£5.95
Black Bean Sauce 05) Char Siu
£5.95
Black Bean Sauce 06) Shrimp
£6.20
Black Bean Sauce 07) Roast Duck
£6.80
Black Bean Sauce 08) King Prawn
£6.80
Black Bean Sauce 09) Squid
£6.80
Black Bean Sauce 10) Little Canteen Special
£7.30
Szechuan 01) Mixed Vegetable
Hot
£5.50
Szechuan 05) Char Siu
Hot
£5.95
Szechuan 07) Roast Duck
Hot
£6.80
Szechuan 08) King Prawn
Hot
£6.80
Szechuan 10) Little Canteen Special
Hot
£7.30
Kung Po 01) Mixed Vegetable
Hot
£5.50
Kung Po 07) Roast Duck
Hot
£6.80
Kung Po 08) King Prawn
Hot
£6.80
Kung Po 10) Little Canteen Special
Hot
£7.30
Peking 01) Mixed Vegetable
£5.50
Peking 10) Little Canteen Special
£7.30
Yuhong 01) Mixed Vegetable
£5.50
Yuhong 10) Little Canteen Special
£7.30
Egg Foo Yung 01) Mixed Vegetable
£5.50
Egg Foo Yung 05) Char Siu
£5.95
Egg Foo Yung 07) Roast Duck
£6.80
Egg Foo Yung 08) King Prawn
£6.80
Egg Foo Yung 10) Little Canteen Special
£7.30
Lazi 10) Little Canteen Special
£7.30
Oyster Sauce 01) Mixed Vegetable
£5.50
Oyster Sauce 05) Char Siu
£5.95
Oyster Sauce 07) Roast Duck
£6.80
Oyster Sauce 08) King Prawn
£6.80
Oyster Sauce 10) Little Canteen Special
£7.30
Mandarin Sauce 01) Mixed Vegetable
£5.50
Mandarin Sauce 03) Chicken
£5.95
Mandarin Sauce 05) Char Siu
£5.95
Mandarin Sauce 06) Shrimp
£6.20
Mandarin Sauce 07) Roast Duck
£6.80
Mandarin Sauce 08) King Prawn
£6.80
Mandarin Sauce 10) Little Canteen Special
£7.30
Tomato 01) Mixed Vegetable
£5.50
Tomato 10) Little Canteen Special
£7.30
Bean Sprouts 01) Mixed Vegetable
£5.50
Bean Sprouts 05) Char Siu
£5.95
Bean Sprouts 07) Roast Duck
£6.80
Bean Sprouts 08) King Prawn
£6.80
Bean Sprouts 10) Little Canteen Special
£7.30
Onion 01) Mixed Vegetable
£5.50
Onion 10) Little Canteen Special
£7.30
Cashew Nuts 01) Mixed Vegetable
£5.50
Cashew Nuts 07) Roast Duck
£6.80
Cashew Nuts 08) King Prawn
£6.80
Cashew Nuts 10) Little Canteen Special
£7.30
Fresh Mushroom 01) Mixed Vegetable
£5.50
Fresh Mushroom 03) Chicken
£5.95
Fresh Mushroom 05) Char Siu
£5.95
Fresh Mushroom 06) Shrimp
£6.20
Fresh Mushroom 07) Roast Duck
£6.80
Fresh Mushroom 08) King Prawn
£6.80
Fresh Mushroom 10) Little Canteen Special
£7.30
Chilli Yellow Bean Sauce 01) Mixed Vegetable
Hot
£5.50
Chilli Yellow Bean Sauce 02) Tofu
Hot
£5.95
Chilli Yellow Bean Sauce 03) Chicken
Hot
£5.95
Chilli Yellow Bean Sauce 04) Beef
Hot
£5.95
Chilli Yellow Bean Sauce 05) Char Siu
Hot
£5.95
Chilli Yellow Bean Sauce 06) Shrimp
Hot
£6.20
Chilli Yellow Bean Sauce 07) Roast Duck
Hot
£6.80
Chilli Yellow Bean Sauce 08) King Prawn
Hot
£6.80
Chilli Yellow Bean Sauce 09) Squid
Hot
£6.80
Chilli Yellow Bean Sauce 10) Little Canteen Special
Hot
£7.30
Ginger & Spring Onion 01) Mixed Vegetable
£5.50
Ginger & Spring Onion 02) Tofu
£5.95
Ginger & Spring Onion 03) Chicken
£5.95
Ginger & Spring Onion 04) Beef
£5.95
Ginger & Spring Onion 05) Char Siu
£5.95
Ginger & Spring Onion 06) Shrimp
£6.20
Ginger & Spring Onion 07) Roast Duck
£6.80
Ginger & Spring Onion 08) King Prawn
£6.80
Ginger & Spring Onion 09) Squid
£6.80
Ginger & Spring Onion 10) Little Canteen Special
£7.30
Sweet Ginger & Pineapple 01) Mixed Vegetable
£5.50
Sweet Ginger & Pineapple 02) Tofu
£5.95
Sweet Ginger & Pineapple 03) Chicken
£5.95
Sweet Ginger & Pineapple 04) Beef
£5.95
Sweet Ginger & Pineapple 05) Char Siu
£5.95
Sweet Ginger & Pineapple 06) Shrimp
£6.20
Sweet Ginger & Pineapple 07) Roast Duck
£6.80
Sweet Ginger & Pineapple 08) King Prawn
£6.80
Sweet Ginger & Pineapple 09) Squid
£6.80
Sweet Ginger & Pineapple 10) Little Canteen Special
£7.30
Thai Sweet Chilli 01) Mixed Vegetable
Hot
£5.50
Thai Sweet Chilli 02) Tofu
Hot
£5.95
Thai Sweet Chilli 03) Chicken
Hot
£5.95
Thai Sweet Chilli 04) Beef
Hot
£5.95
Thai Sweet Chilli 05) Char Siu
Hot
£5.95
Thai Sweet Chilli 06) Shrimp
Hot
£6.20
Thai Sweet Chilli 07) Roast Duck
Hot
£6.80
Thai Sweet Chilli 08) King Prawn
Hot
£6.80
Thai Sweet Chilli 09) Squid
Hot
£6.80
Thai Sweet Chilli 10) Little Canteen Special
Hot
£7.30
Crispy Chicken Cantonese Style with Shrimp
£6.10
Roast Duck Cantonese Style
£6.80
Roast Duck With Plum Sauce
£6.80
Roast Duck With Soya Sauce
£6.80
King Prawn With Cream Sauce
£6.80
Grilled Sea Bass Hot & Spicy
Hot
£18.95
Grilled Sea Bass Pickled Chilli
Hot
£18.95
Grilled Sea Bass Black Bean Sauce
Hot
£18.95
Fish Slices in Chilli Oil
Hot
£14.95
Fried Fish with Chilli & Szechuan Peppercorn Sauce
Hot
£16.95
Blood Bean Curd in Chilli Oil
Hot
£14.95
Geleshan Chicken with Bone in Dried Chilli
Hot
£13.95
Pork Hough in Hot & Pickled Soup
Hot
£12.95
Salt & Chilli Pig Feet
Hot
£12.95
Hot & Spicy Pot with Mixed Meat Seafood
With vegetables
Hot
£18.95
Hot & Spicy Pot Duck Tounge
Hot
£12.95
Hot & Spicy Pot Frog Legs
Hot
£12.95
Hot & Spicy Pot King Prawn
Hot
£12.95
Hot & Spicy Pot Squid
Hot
£12.95
Hot & Spicy Pot Rabbit
Hot
£12.95
Hot & Spicy Pot Intestines
Hot
£12.95
Hot & Spicy Pot Chicken
Hot
£12.95
Hot & Spicy Pot Chicken Wings
Hot
£12.95
Hot & Spicy Pot Lamb Ribs
Hot
£12.95
Hot & Spicy Pot Pork Feet
Hot
£12.95
Hot & Spicy Pot Pork Tails
Hot
£9.95
Hot & Spicy Pot Cauliflower
Hot
£9.95
Special Stir-Fry Duck Tounge
Hot
£12.95
Special Stir-Fry Pork Intestines
Hot
£12.95
Special Stir-Fry Squid
Hot
£11.95
Special Stir-Fry Beef Tripes
Hot
£11.95
Special Stir-Fry Chicken Gizzards
Hot
£10.95
Special Stir-Fry with Sauce Pork Instestines
Hot
£12.95
Special Stir-Fry with Sauce Frog Leg
Hot
£12.95
Special Stir-Fry with Sauce Beef Tripes
Hot
£11.95
Special Stir-Fry with Sauce Squid
Hot
£11.95
Special Stir-Fry with Sauce Pork Kidney
Hot
£10.95
Chinese Leaves & Egg Soup Small
£6.50
Chinese Leaves & Egg Soup Large
£9.00
Preserved Cabbage & Clear Noodle Soup Small
£7.00
Preserved Cabbage & Clear Noodle Soup Large
£10.00
Pork, Chinese Leaves & Tofu Soup Small
£7.00
Pork, Chinese Leaves & Tofu Soup Large
£10.00
Pork & Preserved Cabbage Soup Small
£7.00
Pork & Preserved Cabbage Soup Large
£10.00
Crab Meat & Sweetcorn Soup
£3.50
Rice Noodle Mixed Vegetable (V)
£5.90
Rice Noodle Turbo (Chilli & Garlic)
£6.80
Rice Noodle Little Canteen Special
£7.30
Chow Mein (Thin) Mixed Vegetable (V)
£5.90
Chow Mein (Thin) Char Siu
£6.80
Chow Mein (Thin) Turbo (Chilli & Garlic)
£6.80
Chow Mein (Thin) King Prawn
£7.30
Chow Mein (Thin) Singapore
£7.30
Chow Mein (Thin) Little Canteen Special
£7.30
Szechuan Spicy Chicken with Bones
Hot
£7.95
Beef & Triple in Spicy Sauce
Hot
£7.95
Fungus with Pickled Chilli & Vinegar
£6.95
Pig Ear in Spicy Sauce
Hot
£6.95
Roasted Cashew Nut
Vegetarian
£5.50
Salted Peanuts
Vegetarian
£4.80
Banana Fritters
Vegetarian
£3.50
Pineapple Fritters
Vegetarian
£3.50
Chicken Breast Curry - Main
Sweet & Sour Chicken - Main
Beef with Black Beans Sauce - Main
Crispy Shredded Chicken - Main
Mixed Vegetable (V) - Main
Tofu with Fresh Mushroom (V) - Main
Chicken & Noodle Soup - Starter
Chicken & Mushroom Soup - Starter
Vegetable Spring Rolls (V) - Starter
Crispy Seaweed (V) - Starter
Salt & Chilli Chicken (V) - Starter
Mixed Vegetable Curry
Vegetarian
£5.50
Little Canteen Special Curry
£7.20
Pork Slices with Spicy Sauce
Hot
£13.95
Pork Hough with Chilli & Szechuan Peppercorn
Hot
£11.95
Braised Mao Style Pork Belly
£8.30
Double Cooked Pork Belly
Hot
£8.30
Stir Fried Shredded Pork with Egg & Black Fungus
£8.00
Shredded Pork with Peking Sauce with Pancakes
£9.00
Pork Kidneys with Birdeyes Chilli
Hot
£9.95
Beef Slices with Spicy Sauce
Hot
£13.95
Beef with Pickled Chilli
Hot
£9.50
Stir Fried Beef with Seasonal Vegetables
£8.30
Braised Beef Flank with Mooli
£8.30
Little Canteen Special Chicken with Bone
Hot
£15.95
Sweet & Sour Chicken with Pineapple
£8.00
Fish Slices with Spicy Sauce
Hot
£15.95
Fish Slices with Pickled Vegetables
Hot
£15.95
Fish Slices with Tomato & Pickled Chilli
Hot
£15.95
Seafood with Seasonal Vegetable
£10.50
Little Canteen Special Stir-Fry
£10.50
Chinese Chives with Egg
Vegetarian
£10.80
Stir Fried Fine Bean with Pork Mince
With preserved vegetables
£7.80
Stir Fried Preserved Beans with Pork Mince
Hot
£7.50
Lettuce in Oyster Sauce
Vegetarian
£7.50
Chilli & Vinegar Chinese Leaves
Hot
Vegetarian
£7.50
Chilli & Vinegar Shredded Potato
Hot
Vegetarian
£7.50
Stir Fried Egg with Tomato
Vegetarian
£7.50
Stir Fried Seasonal Vegetables
£7.00
Boiled Rice with Curry Sauce
Long tray
Vegetarian
£3.80
Fried Rice with Curry Sauce
Long tray
Vegetarian
£3.80
Fried Rice with Gravy Sauce
Long tray
Vegetarian
£3.80
Chips, Fried Rice with Curry Sauce
Long tray
Vegetarian
£3.80
Chips, Fried Rice with Gravy Sauce
Long tray
Vegetarian
£3.80
Portion of Cashew Nuts
Vegetarian
£4.00
Braised Beef Flank with Mooli on Rice
£7.95
Kung Po Chicken on Rice
Hot
£7.95
Mao Style Braised Pork Belly on Rice
£7.95
Pickled Fine Bean with Pork Mince on Rice
Hot
£7.95
Beef with Seasonal Vegetable on Rice
£7.95
Beef Fillet with Egg on Rice
£7.95
Yuhong Aubergine on Rice
Hot
£7.95
Fine Bean with Pork Mince on Rice
£7.95
Pork Mince with Sweetcorn on Rice
£7.95
Mixed Seafood with Seasonal Vegetable on Rice
£8.95
Beef Fillet with Pickled Chilli on Rice
Hot
£9.95
Little Canteen Special Stir-Fry on Rice
£9.95
Fried Rice Mixed Vegetable (V)
£5.90
Fried Rice Turbo (Chilli & Garlic)
£6.80
Fried Rice Little Canteen Special
£7.30
Salt & Chilli Chips
Hot
Vegetarian
£4.30
Sauce Sweet & Sour
Vegetarian
£2.20
Stir Fried Onion
Vegetarian
£3.00
Stir Fried Bean Sprouts
Vegetarian
£3.00
Stir Fried Mushroom
Vegetarian
£3.00
Stir Fried Mixed Vegetable
Vegetarian
£3.30
Deep Fried Onion Ring
Vegetarian
£3.50
Chips with Curry
Long tray
Vegetarian
£3.80
Chips with Gravy
Long tray
Vegetarian
£3.80
Grilled Oyster Half Dozen
£15.00
Chinese Chives Skewer
Vegetarian
£2.60
Cucumber Skewer
Vegetarian
£1.20
Enoki Mushroom Skewer
Vegetarian
£2.60
Aubergine Skewer
Vegetarian
£2.00
Mushroom Skewer
Vegetarian
£1.20
Grilled Bun Slices
Vegetarian
£1.80
Udon Turbo (Chilli & Garlic)
£6.80
Udon Little Canteen Special
£7.30
Mixed Vegetable Satay
Vegetarian
£5.50
Chicken Satay Skewers (4 Pieces)
£6.40
Beef Satay Skewers (4 Pieces)
£6.40
Little Canteen Special Satay
£7.20
Boiled Dumpling with Pork & Chinese Leaves (12)
£6.95
Pan Fried Dumpling with Chicken (12)
£7.50
Braised Beef Flank Noodle
£7.95
Braised Beef Flank Rice Stick
£7.95
Braised Beef Shin Rice Stick
£7.95
Stir Fried Rice Stick with Beef
£7.95
Chengdu Dandan Noodle
Hot
£7.95
Chongqing Spicy Noodle
Hot
£7.95
Cold Noodle with Shredded Chicken
Hot
£8.95
Hot & Spicy Potato Noodle
Hot
£6.95
Singapore Rice Noodle
Hot
£7.95
Sweet & Sour Mixed Vegetable
Vegetarian
£5.50
Hong Kong Sweet & Sour Chicken
£5.95
Sweet & Sour Chicken in Batter
£6.10
Sweet & Sour King Prawn in Batter
£6.95
Sweet & Sour Little Canteen Special
£7.20
Kids Chicken Ball with Chips
£3.50
Kids Chicken Nuggets with Chips
£3.50
Vegetable Spring Rolls (10 Pieces)
Vegetarian
£3.50
Crispy Duck Spring Roll 6Pcs
£4.50
Crispy Seaweed
Vegetarian
£4.20
Salt & Chilli Tofu
Vegetarian
Hot
£4.50
Salt & Chilli Chicken
Hot
£5.50
Salt & Chilli Spare Ribs
Hot
£6.20
Salt & Chilli Chicken Wings
Hot
£5.50
Salt & Chilli King Prawn
Hot
£6.50
Salt & Chilli Platter
Hot
£15.50
Honey & Spicy Chicken Wings
Hot
£4.70
Chicken Satay Skewers (2 Pieces)
£4.50
Mussel With Black Bean Sauce
£5.60
Aromatic Duck 1/4
Served with pancakes
£9.50
Aromatic Duck 1/2
Served with pancakes
£16.50
Aromatic Duck Whole
Served with pancakes
£24.95
Contact Us
Find Us
1164 Argyle Street, Glasgow, G38TD
We deliver to
G1, G11, G12, G13, G14, G2, G20, G3, G4, G51